Noah Bennet
Talk

1
464pages on
this wiki
This article or section is under construction.
It is in the middle of an expansion or a major revamping.You are welcome to help in it's construction by editing it well.
Noah Bennet is a character from the NBC drama Heroes played by Jack Coleman.
Character Overview
Edit
At first glance, Noah Bennet appears to be an ordinary businessman who works at the Primatech Paper Company and lives in Odessa, Texas, with his wife and two children. However, he and his associates have actually traveled the world for a number of years investigating superhuman phenomena and tracking down people with these "gifts." Bennet claims that he assists them in learning to use their powers, although a flashback conversation between him and Thompson reveals that he knows his job is morally questionable and that it will often produce unintended consequences; in one episode, he plainly states that he is comfortable with being morally gray. Though he is a "Company Man," he deeply cares for his family and will do anything to protect them, particularly his adopted daughter Claire, and puts their safety above all else.
Bennet has had a number of associates, most notably a mysterious man most commonly known as "The Haitian," who has the power to prevent other heroes from exercising their powers in his presence, as well as to remove select memories from people's minds. Bennet's other known associates have been Eden McCain, a woman with the power of mind control who kills herself to keep Sylar from gaining her ability; Claude Rains, Bennet's first partner who has the power to turn invisible; and a romantic couple composed of Hank, a doctor with unknown abilities and his significant other, Lisa, who also has unknown abilities. Rains is the first person to question Bennet's actions and those of The Company. Bennet is charged with executing Rains for his insubordination on moral grounds, but Rains escapes by literally disappearing into thin air.
Bennet's true agenda and overall affiliation are mysterious. In response to Matt Parkman's inquiries as to whether he works for the FBI or the CIA, Bennet said he doesn't work for "any organization that has initials."[3] Furthermore, he has worked for and against The Company and for and against Mr. Linderman. These factors cloud his true allegiances. His one allegiance that is clear, however, is that to his daughter, Claire; his son, Lyle; and his wife, Sandra. Bennet loves his daughter profusely, but is also overprotective of her. This sometimes leads him to use his authority and associates in unsavory ways. Past, present and future events all indicate that Bennet has lied about Claire's biological origins multiple times.
According to his driving license, his previous address is 9 Juniper Lane, Odessa, Texas. Noah Bennet speaks Japanese and also appears to speak at least a limited amount of Russian. Although he does not seem to possess any powers, his extensive experience in dealing with beings with superpowers allows him to be able to handle them effectively. Also, he displays considerable prowess in hand-to-hand combat and marksmanship.[4]
Season Two
Edit
Noah and his family go into hiding under a new last name. They leave Texas and find a new home in California. Everything does not go well, he is constantly watching Claires actions and tells her to keep her head down so no one expects her "ability". He tells her not to go back to her old life as a cheerleader and she cannot date.
Noah secretly works with Dr. Suresh to break apart the Company he used to work for from the inside. He is in conctact with Suresh over the phone and tells him of their next moves. First Noah tells Suresh to find the rest of the eight painting Isaac Mendaz has painted. Suresh becomes a friend of Robert Bishop, a lead in the Company, and is hired by him to work there. The plan was going as planned until Suresh finds the eighth painting in the series which shows Noah, shot through the head with Claire and a boy in the backround.
Noah becomes even more over pretective of Claire and lowers the rate of what she can do. Claire, however finds a friend, West, and discovers he has the ability of flight. They secretly begin to date. Noah is still unaware because he is more concered with destroying the company. Suresh begins to doubt Noah's plans and starts going over on the Company's side. Noah cautions him and tells him "that's what they do".
Everything goes downhill when he discovers Claire's connection to West, a boy he had abducted when West was twelve. Noah begins to think of only his safety and demands the family to leave California. Claire refuses to leave and tries to continue with her life. Noah gets the rest of the paintings which reveals a possibility of Suresh shooting him. Later, Noah confronts West and tells him that they need to help Claire.
Soon later, Suresh, who is part of the Company, abducts him and tells him to drive away. Suresh holds him at gun point and urges him to give them Claire, saying she could help people. Suresh and his partner, Elle Bishop, hold him in an alley before West comes and takes out Elle who was about to get aggresive with Noah. The tide turns and Noah ends up pointing the gun and Suresh. West tells him they need to get out of there so Noah leaves Suresh and goes with West who is carrying the unconcioius Elle.
Noah is told by his wife that Claire has been kidnapped by Bob Bishop, so in return, he holds Elle hostage. He and Bob come to an agreement and they meet by the beach with their hostages. Bob first gives Noah Claire and then he gives Bob Elle. Once Claire was safe with Noah, he tells West to fly out of there with Claire. However, Elle burns through her restraints with her power and shocks West and Claire out of the sky. Noah shoots at Elle, getting her in the arm. Claire lands on the ground first to prevent harm to West. By then Noah is holding his gun at Bob saying that the Company will end with Bob's life. Before he can shoot, Suresh fires at Noah, shooting him in the eye. Killing him. Claire tries to help him but West flies her out of there leaving Noah's dead body.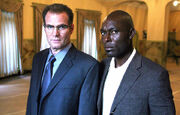 Claire then tells her mother about the death of her husband and tries to console her. Noah however, is given regenerating blood which Bob got from Claire, heals, and wakes up in a crude, medical facility.
Season Three
Edit
In Level 5, as Noah was throwing his red ball across his cell, he heard Jesse Murphy claiming that he was "Peter Petrelli".
Elle arrived at Noah's cell and said that Sylar is in Level 5. Noah reminded her that her dad didn't want him to leave his cell but Elle informed him about her father's death. She threw him a gun as she walked out. Noah heard her scream and ran out to investigate. He found Sylar and fired bullets into his chest.
Despite the iconic nature of his nickname "The Man with the Horn-Rimmed Glasses", Noah Bennet actually wears browline glasses. Likely as a nod to this irony, in a flashback sequence in Company Man, Noah actually tries on a pair of horn-rimmed glasses, only to be told by Claire that they make him look like a "grandpa".
Noah is one of the only Heroes who has no abilitiy.
He is responsible for the creation of Sylar, having Elle stop Gabriel from killing himself and then bringing on the chain of events that drove him to kill others and take their powers.
References
Edit